Jim Burke Price Promise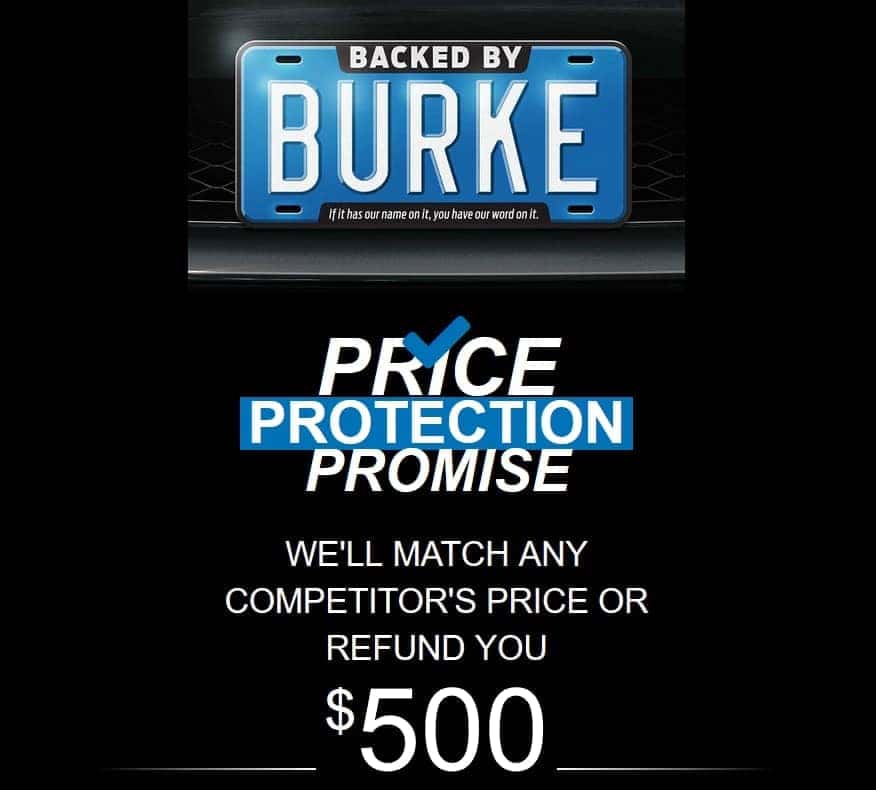 To be eligible, the following conditions apply:
After the consumer takes delivery, Jim Burke will honor another dealer's lower advertised vehicle price.
Available on new, in-stock, identically equipped vehicles only. Out-of-stock vehicles, leases, and previously dealer traded vehicles do not apply. Courtesy transportation vehicles, dealer demonstrators, and/or service loaners do not apply.
The competitive dealer's ad must be advertised in U.S. dollars, must be able to be verified online or in the newspaper, and must be a current advertised price within a 25-mile radius of the dealership at the time of verification.
Offer expires 3 days after consumer takes delivery of the new in-stock vehicle from Jim Burke and must fall within the same program month.
Applies to purchases only. The competitive dealer's advertised vehicle price must be equal to or have a higher manufacturer's suggested retail price than on the vehicle purchased from Jim Burke.
The competitive dealer's total advertised price must include all associated costs, including destination and delivery charges, excluding taxes and fees. Coupons, free product offers, and other discounts shall not apply. The competitive dealer's advertised vehicle must have less than 250 miles on the odometer.
Subject to change and can be withdrawn at any time. All payments made to the consumer releases Jim Burke and its affiliates of future obligations toward the purchase and sale of the vehicle and require a release in writing indicating that the consumer received the benefit. If manufacturer changes incentives or rebates during the 3 day grace period, the offer is null and void and withdrawn upon notice issued to dealer by manufacturer.